Highly Trained Technicians: Our technicians are experienced and expertly trained to deliver the most accurate solutions for your home.
Advanced technology: We use the latest tools and technology to ensure you receive the safest, most efficient solutions on the market.
Plumbing & Drain Specialists: Not jacks of all trades, we specialize in plumbing and drains to deliver the best service possible.
A serious plumbing issue has the potential to derail your household plans faster than anything else. When water is gushing from a burst pipe or a toilet is clogged and won't flush, it's hard to think of anything else until the issue is resolved. At Allens Plumbing, we have been providing top-quality plumbing repairs and installations to the residents of Oahu and Maui, HI since 1982.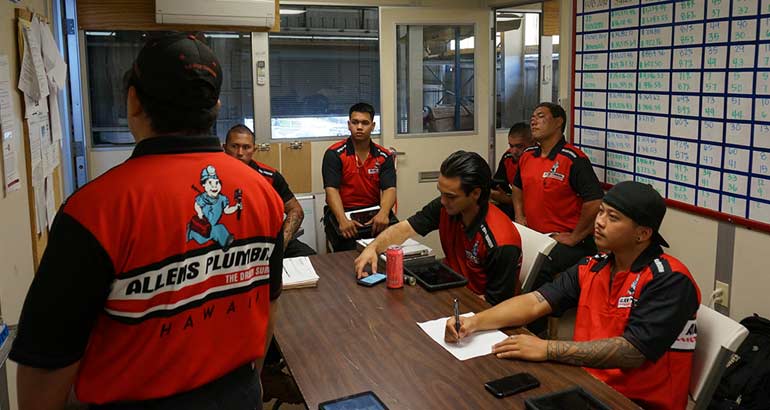 Do you want to know what your friends and neighbors have to say about our plumbing services? Check out our reviews page to find out!
Your Trusted Plumbing Repair Technicians
Sewer Line Repair
Not only are sewer line issues messy, but they can also be a health hazard as well. If your sewer line is backed up, make sure to call a professional for service before you end up with a completely broken sewer line. If you are dealing with a broken sewer line, do not hesitate and call Allens Plumbing for sewer line repair immediately.
Hydrojetting Services
Are you struggling with a recurring drain problem? If you have tried commercial drain solutions with little long term success, it may be time to consult professional drain jetting services. The expert team at Allens Plumbing uses cutting edge technology known as hydro jetting to clear your drains of caked-on debris. Prevent further problems and restore the comfort and safety of your home with our professional drain and sewer jetting services today.
Hot Water Heater Installation
Are you tired of feeling the shock of cold water in your morning shower? Get your morning routine back and call a licensed professional plumber to repair or replace your water heater as soon as possible. The team at Allens Plumbing is licensed and certified to recommend and install a full range of makes and models of water heaters. Many homeowners opt for a tankless unit because they save space and cut energy costs, and provide water on demand. Call today to see if one of these on-demand units would be a great fit for your budget and needs.
Why Choose Us?
When it comes time for Oahu plumbing services and Maui plumbing services, it's nice to know you have a solid partner in your corner. Here are some reasons our customers keep coming back again and again.
Over 40 Years in Business: We have been providing plumbing installation and repair since 1982, and our customers trust us.
Great Ratings: We enjoy an A+ rating with the Better Business Bureau.
Finding the Cause: Our technicians don't waste time just fixing the obvious. We dig deeper to find the underlying cause of the problem and fix that too.
Authorized Dealer: We are an authorized dealer of Rheem, Rinnai, and AO Smith water heaters.
Same Day Service: We always strive for same day service, and will provide you with a brief, two-hour service window no matter when the appointment is booked.
Custom Plumbing Solutions
No matter what your plumbing issue happens to be, the team at Allens Plumbing will assess every situation individually and provide solutions based on that assessment. We tailor our services to meet your needs, so you always get plumbing repairs and installations that will last. Most homeowners are busy enough just living their lives, and adding to that everyday activity with poor plumbing service is not what we are about.
Expect the Best
When we arrive at your door, you can expect the highest level of customer service and superior technical services. We will greet you with a smile, explain everything we are doing, treat your home with the utmost respect, and answer all your questions before we proceed. We want you to feel comfortable, and we are more than happy to do our part to make that happen.