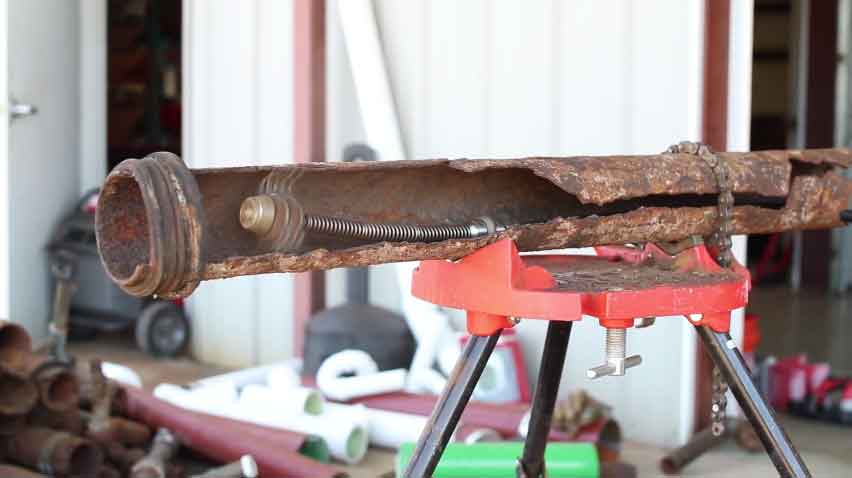 In today's fast-paced world, you want to be want to have all of the services you need fast. With today's technologies, you can enjoy plumbing services completed quickly and efficiently. Our team uses the latest in plumbing technology to clear your drains quickly. Not only will you get back to enjoying working plumbing, but you can also expect the results to be long-lasting.
When you work with Allens Plumbing, you're getting the best and most advanced drain cleaning technology. Our technicians receive continual training on a variety of modern plumbing methods to deliver best in class service with accurate results.
Burst pipes can cause serious property damage. Call us for burst pipe repair.
High Speed Drain Cleaning vs. Traditional Drain Cleaning
Many homeowners are familiar with various methods of clearing clogged drains since they are such a common household issue. Some traditional methods have been around since the 1930's, such as drain snakes with a drum and motor that were used to clear drains. Nowadays, hydro jetting has become a popular option. Since the 2000's, these machines have been preferred for their powerful ability to clear drains of sand, grease, dirt and debris that become lodged in your drains.
High speed drain cleaning is a new method of cleaning pipes that many experts are embracing. The flexibility of this system is taking the plumbing world by storm. These systems use a flexible, snake-like head connected to a motor to provide high speed cleaning deep inside of your pipes. These machines are powerful enough to cut through tough grime, grease, and clogs to get your pipes draining like new.
Benefits of High Speed Drain Cleaning
Many experts are moving towards using this method of clearing drains. There are many reasons for choosing this method of drain cleaning including:
Effective in descaling and removing rust from aging pipes
Fast and efficient way to remove tough clogs, grime, and grease
Flexibility in use such as reinstating a lined sewer pipe
Deep cleaning capabilities including removing roots that have grown into pipes
Need new pipes? We provide trenchless sewer repair in your area.
Why Choose Us
At Allens Plumbing, we don't want you to struggle with problem plumbing on your own. That's why we work so hard to find personalized and modern solutions to your most pressing plumbing problems. We value your time and your business, so you can always expect fast, accurate solutions are done right the first time.
We have been in business for more than 35 years and are always looking for ways to bring you the best and newest in plumbing technology. Our trained technicians listen to your concerns in order to offer you tailored solutions that will have long-lasting results. We would never recommend a service or product to you that we wouldn't advise for our own family members. Enjoy a hassle-free experience and speak to a real person when you call us.