Perhaps the biggest complaint among Oahu and Maui, HI homeowners when it comes to traditional sewer line repair or replacement is all the digging. In order to access the sewer line, plumbers had to tear up yards and move earth to make it happen. With trenchless sewer repair and replacement, there is no extensive digging involved. At Allens Plumbing, we provide quality trenchless sewer repair and replacement our customers' love.
Learn more about our different trenchless sewer solutions: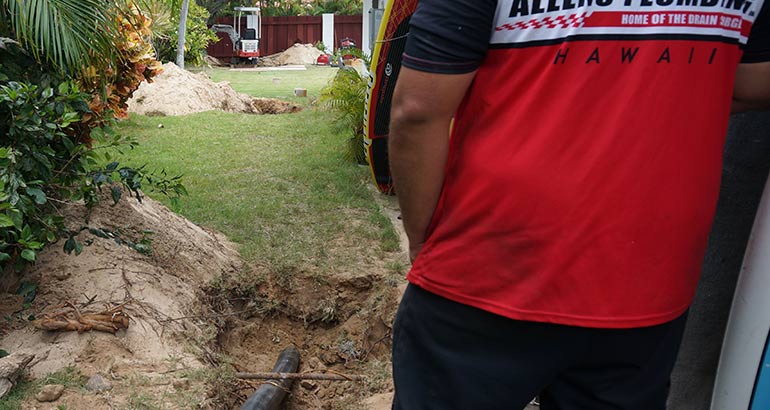 Do you want to know what our past customers thought of the work we did for them? Find out what they had to say on our reviews page.
Common Causes of Sewer Line Trouble
Most homeowners never have to worry about issues with their sewer line, but when it does happen there are usually a handful of possible culprits. Tree roots are one reason that you'll need trenchless sewer repair or trenchless sewer replacement. As the roots reach out for water sources, they may find your sewer line and end up growing right inside. Severe weather, old and word pipes and severe clogs are other reasons you may need trenchless sewer services.
Repair Your Sewer Line With Pipe Bursting
One method of trenchless sewer line repair that many technicians use is called pipe bursting. With this method, two holes are dug at either end of the broken section of sewer pipe, then a replacement pipe is pulled through. This causes the older pipe to burst and fall away, leaving the new section to get the job done.
Save money on our services by visiting our coupons page!
Why Choose Us
Here are some of the special features that help to add value to our services:
Our goal is always same day service.
Quick, two-hour service windows.
Our plumbers look for the underlying cause of your plumbing issue.
We've been in business for over three decades.
A+ rating with the Better Business Bureau.
Authorized dealer of Rheem, Rinnai and AO Smith water heaters.
Using the most advanced sewer restoration technology in the industry.