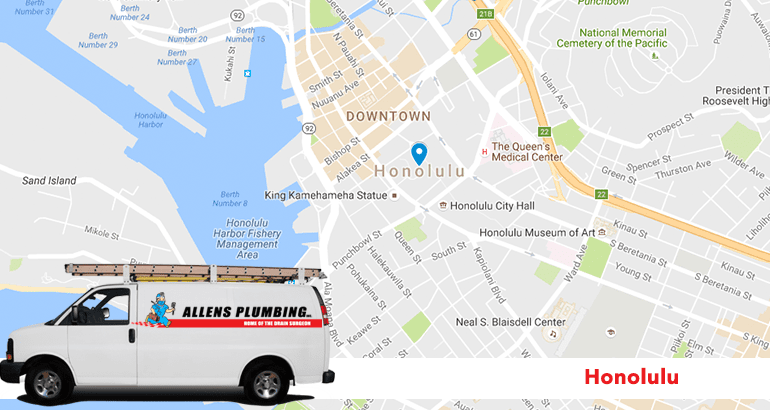 Residents of Honolulu, HI enjoy all of the natural beauty of island living, along with the drawbacks of natural disasters. Tropical storms and heavy rain can cause all sorts of problems for plumbing pipes and sewer lines. Luckily, Allens Plumbing is here to help with any plumbing emergency you face. Whether you need sewer repair, commercial or residential plumbing, hydro jetting, water heater services, or anything in between we have you covered.
At Allens Plumbing, our reputation speaks for itself. We have an A+ rating with the Better Business Bureau, and we've been operating in the Honolulu, HI area since 1982. We pride ourselves on exceptional customer service and will always strive to find the underlying cause of your problem.
Learn what others just like you have been saying about our range of services when you check out our reviews page.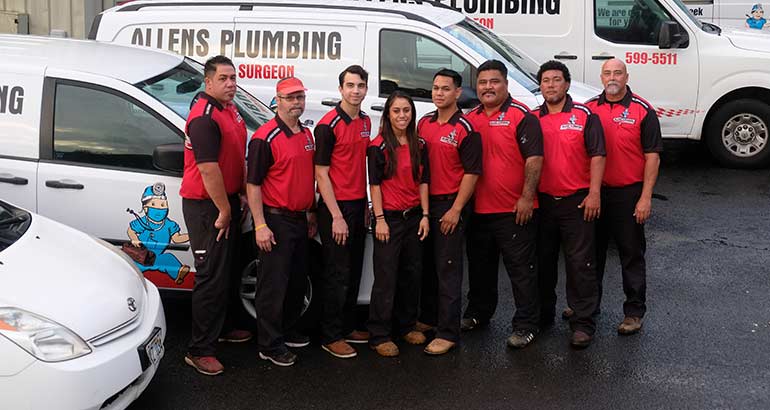 Trusted Plumbing Repair and Installation Services
Allens Plumbing has all of your plumbing needs met, whether they are as basic as a small repair, as extensive as a full replacement, or ongoing such as regular maintenance. We offer a broad range of services, from hydro jetting to trenchless sewer repair to whole-house repiping. Our technicians are expertly trained and attentive to your needs so you can rest assured we will provide you with the solutions you need.
Do You Need a New Water Heater?
If you have ever experienced the sting of cold water coming from your faucets when it should be hot, you've probably wondered if you need a new water heater. Sometimes, a repair will suffice, but a new water heater brings with it improved performance and efficiency, which will lower your monthly bills.
If your water heater is between 10 and 15 years old and requires frequent repairs, your local plumbing expert will likely recommend a replacement. The key is to schedule an appointment with a reputable plumbing team like Allens Plumbing to get the process started.
Hydrojetting Explained
Sometimes the clogs in your pipes may prove too hard to break up easily. If traditional drain cleaning methods fail to fix the problem, it's best to use more powerful methods such as hydro jetting. So why is it so effective?
By shooting a strong blast of water at high pressure, hydro jetting can free up the water line by quickly breaking apart blockages and build up. The water used is highly pressurized, which makes it more powerful than most unclogging techniques.
What does hydrojetting remove?
Pipes are clogged by plenty of things and some require more work than others. While hydro jetting can get rid of clogs ranging from grease and hair to tree roots and tree trunks, it's typically recommended for tough clogs that cannot be fixed by traditional methods. The advanced cleaning of hydro jetting makes it a popular option for residential as well as commercial applications.
Since hydro jetting only involves shooting water, the process is safe and environmentally friendly. With no hazardous chemicals in the water, the water system and pipes remain safe. Hydro jetting also helps to keep your pipes clear and healthy, reducing the frequency of clogs and lowering maintenance costs. When your pipes are clean and structurally sound, they're less likely to fail and lead to leaks or floods. Removing obstructions helps to restore regular water flow and minimizes the chances of unhealthy and destructive sewage back-ups.
Areas We Serve in Honolulu, HI
We proudly serve the following areas: