Do you live in an older home that was built before the 1960s? Have you had your sewer lines checked recently and were told that they need to be replaced? With the mention of sewer replacement, do you immediately imagine deep trenches all around your beautiful yard?
Pipe bursting is a trenchless sewer restoration technique that saves your yard, patio, driveway, and surrounding property from extensive digging. At Allens Plumbing we recommend pipe bursting if circumstances make the traditional trench method too risky or if the traditional method will cause too much damage to the area above or around the pipe.
When you visit our reviews page, you can find out what Oahu & Maui residents have been saying about our services.
Allens Plumbing is the leader in trenchless sewer restoration. We provide Oahu and Maui pipe bursting, pipe relining, and pipe coating services to suit your specific needs. Read on to see what you can expect from a pipe bursting job.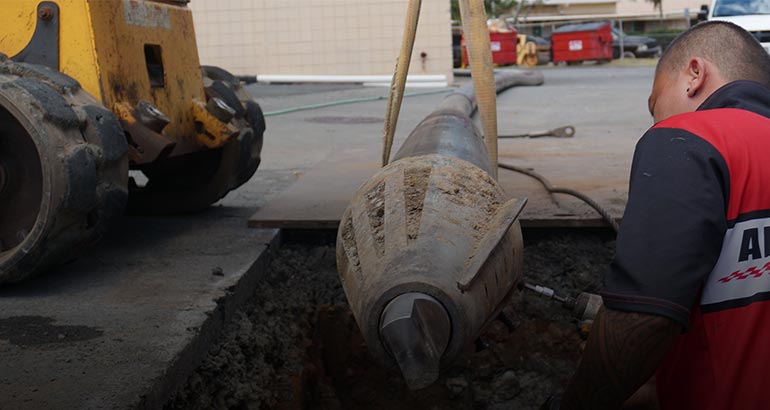 Pipe Bursting in One Day
Pipe bursting only requires digging two small access points to get to the damaged pipe. We then insert a cable into the existing pipe that pulls the new replacement line into position.
The cable follows the path of the existing line, pulling the new pipe into place while the existing pipe "bursts" apart.
Once the new pipe is set in place and the job is complete, we will refill the small access holes that were dug up and return your yard to normal.
This process will take no more than a day. The exact duration of the job will depend on the length of pipe that needs to be replaced and the extent of debris that needs to be removed.
Good to know:
This method is an excellent solution to Orangeburg pipe replacement.
Also ideal for replacing cast iron, PVC, ABS, HDPE, and concrete pipes.
Pipe size can be increased along the same route.
If you'd like to save on some of our services, check out our coupons page.
Why Choose Trenchless Pipe Bursting?
Minimal digging is required (just two small access points that are easily refilled).
Complete replacement of existing pipe with a stronger material.
Replacement pipe is made of high density polyethylene (HDPE) and rated to last 50+ years.
Prevents damage to utility lines around the sewer line.
Most cost-effective solution depending on circumstances.
The main advantage of pipe bursting is the lack of excavation involved. You can save thousands of dollars by not having to restore your driveway or yard. Pipe bursting also saves you time, since it can be completed in one day (traditional dig methods require weeks to complete).