Over time, cracks, tree root intrusion and other disturbances can deteriorate pipelines and other conveyance structures. As such, it's important to repair and rehabilitate aging sewer pipes and infrastructure. That's where Allens Plumbing comes in. Our expertise in the industry allows us to renew pipelines throughout Maui & Oahu, HI. We strive to protect and maintain your underground assets with expert slip lining solutions.
Find out what Maui & Oahu residents are saying about our services on our reviews page.
An Overview of Slip Lining
Slip lining, also referred to as Cured in Place Pipe (CIPP) is one of the earliest methods of trenchless pipe rehabilitation used to fix pipes that have already been installed. The method involves the insertion of a slightly smaller diameter pipe (carrier pipe) into an existing pipe (host pipe) before mechanically reconnecting services.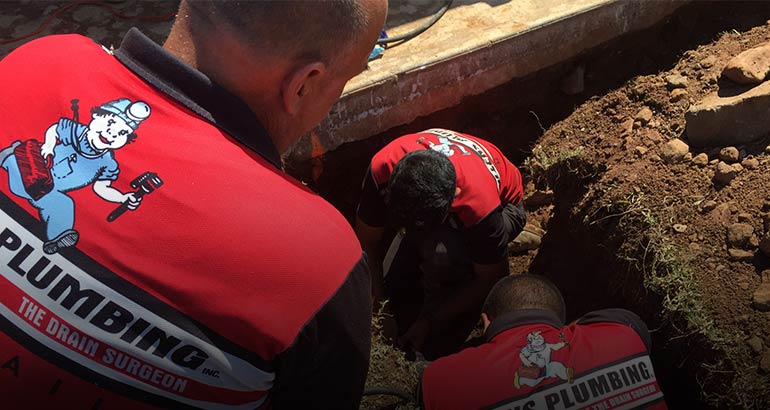 What Does the Process Involve?
Typically, we excavate insertion pits that are strategically located and use high-tech equipment to insert a new, factory-made pipe into the host pipe. Depending on the situation, we often install the new pipe without diverting live flow or bypass pumping.
Several different materials can be used for slip lining, but it usually involves a felt-like material that's impregnated (soaked) with a 2-part epoxy/resin mixture. The new pipe can be installed in two main ways:
Inversion
Pull in Place

When the process is complete, we grout the space between the old and new pipe to secure the new pipeline in place. Our experts are well versed in the different installation methods and pipe materials to tailor solutions to your specific conditions.

Visit our coupons page to find out how you can save on some of our services.

Why Choose Slip Lining Pipe Rehabilitation?

Slip lining is done for the same reasons most pipeline rehabilitation is performed, stopping corrosion, elimination of infiltration and restoring hydraulics. Slip lining pipes are typically made of materials that are corrosion resistant and can provide leak-free joints. Although the slip line pipe used is typically smaller in diameter, the hydraulics of the system are restored or even improved once the process is complete.

Ideal for sites that are difficult to dig or congested areas, slip lining saves money and provides a strong, new pipeline without the need to replace your entire system.