Oahu & Maui Pipe Coating Services
Did your last plumbing inspection detect minor breaks in your pipeline? Consider pipe coating. Read on to learn more about his service. To schedule a visit from our experts, call 808-877-6370 (Maui) or 808-599-5511 (Oahu).
Pipe coating is a fast, safe, and eco-friendly method of restoring your drain and sewer lines. A rotating brush is inserted into the line to coat the interior of your pipeline with a unique resin. When hardened, this resin produces a "pipe within a pipe" so you can continue using your existing plumbing line and avoid time-consuming replacements.
Allens Plumbing is the leader in trenchless technology. We offer pipe coating, pipe lining, and pipe bursting services that restore your plumbing lines without having to destroy your property. Our Maui and Oahu pipe coating services help homeowners improve their plumbing and water efficiency. Here is what you can expect when you schedule this service.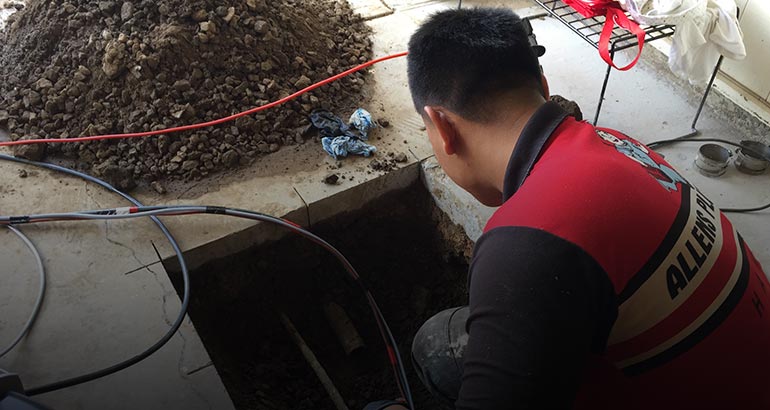 An Overview of Pipe Coating
Before any coating is applied, we will video inspect your drain or sewer line to view the extent of the damage and determine if pipe coating is the right solution. We will then thoroughly clean out your pipe to remove any blockages or obstructions.
Then the coating begins. We coat lined or unlined pipes of various materials: cast iron, PVC, concrete, or clay pipes are all able to be coated.
The length of pipe we coat can just be a small area or your entire pipe system. We are able to coat pipes 32 feet at a time. Most pipes receive 1-3 coats of resin, depending on your specific goals (see below).
Practical Solutions
Pipe coating allows you to either extend the life of your existing pipe, or create a totally new structural pipe. How much coating we apply depends on your particular goal.
Do you want to…
Extend the life of your existing pipe: We apply a single coat or dual coat of the resin (about 0.5-1mm inch thick). This provides your pipe with a newly slick interior for improved water flow and decreased risk of blockages.
Create new pipe within old pipe: This requires several coats of resin that will form 2-4mm of thickness (exact measurements depend on the size of your drain). This newly structured pipeline will serve you well for 30-50 years.
How Long Does it Take?
The pipe coating process is quick and you will not be without service for more than one day.
You can start using your plumbing again after 12-24 hours. The resin usually dries within 3-12 hours, and is completely hardened in seven days.
Will it Last?
The new pipe created from the hardened resin is extremely durable and can last up to 50 years.
Sewer and drain lines that undergo pipe coating become much stronger:
Damp-proof
Corrosion-resistant
Wear-resistant
Withstands shocks and bending
Elastic
Antistatic
References
Trust the leaders in trenchless solutions. Allens Plumbing provides the most advanced sewer restoration technology in the industry. Call today at 808-877-6370 (Maui) or 808-599-5511 (Oahu). Our pipe coating services are tailored to your particular needs.