Your Local Kaka'ako Plumbing Experts
Do you have a plumbing problem that needs some expert attention? At Allens Plumbing, we have the experience and expertise to solve even the most stubborn plumbing troubles. Call us at 808-599-5511 today for fast, cost-effective service. If you'd like to save on your next service, visit our coupons page to see current deals and specials.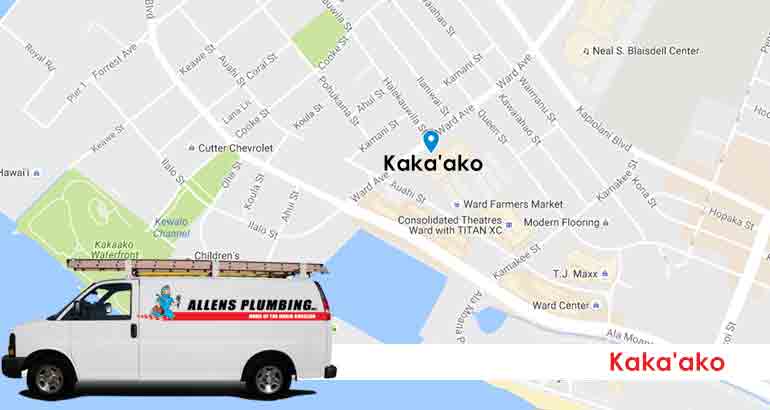 With its impressive natural beauty, Kaka'ako, HI is a great place to call home. However, residing in the stunning Oahu does not come without the challenge of natural disasters. Hurricanes and tropical storms produce heavy rains and winds that can take a toll on your plumbing systems and sewer lines. Thankfully, Allens Plumbing is here when you need us most. Whether it's trenchless sewer line repair you need, hydrojetting, or any other plumbing service, you can count on our team to find a solution that works for you.
With our exceptional customer service and expert technical skill, you can enjoy the best of both worlds working with a team that so many in the area trust. Allens Plumbing has an A+ rating with the Better Business Bureau, and we've been working in the Kaka'ako, HI area since 1982. We always arrive with a smile, answer your questions and clean up before we leave your house.
Find out what others in your area have been saying about our plumbing services when you visit our reviews page today.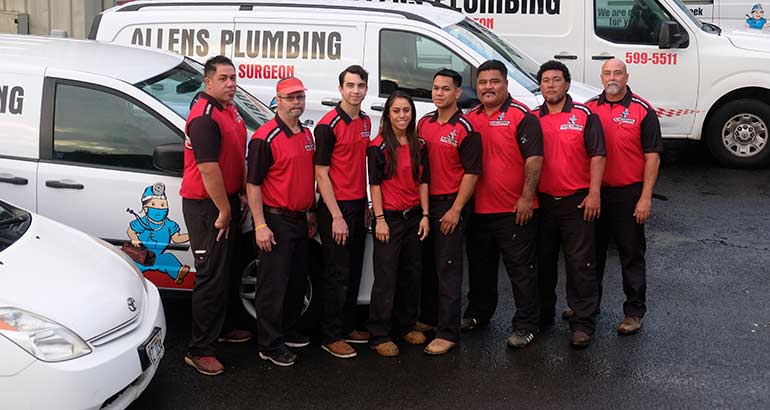 Finding the Right Plumbing Repair Service
When you get into plumbing services like trenchless sewer repair, hydrojetting, water leak detection or burst pipe repair, it's crucial to have a plumber with experience and integrity. When you sign on to work with Allens Plumbing, you can feel confident that our plumbing services will give you the solution you need. When we schedule an appointment for service, our licensed technicians will go the extra mile to ensure they find the cause of your problem so that they can provide the proper plumbing repair or installation. Whenever possible, we strive for same day service, so you won't have to wait to have your house back to normal.
Do You Need Water Heater Repair or Replacement?
You may know that your water heater isn't acting right, but do you know if it needs a repair or a replacement. We provide both repairs and water heater installation, so we can help you no matter what your needs happen to be. We are also authorized dealers of Rheem, Rinnai and AO Smith water heaters, so you'll always have a choice of the very best.
If you notice signs like a leaky tank, loud noises or unpleasant smells, rust colored water, or can't seem to keep the water hot for long, it's time for some professional attention. If your unit is more than 15 years old, it may be time for a new one.
Our Plumbing Services in Kaka'ako, HI
24 Hour Emergency Services
Water Heaters
Tankless Water Heaters
Burst Pipe Repair
Water Leak Detection
Gas Leak Detection
Gas Lines
Drain Cleaning
Hydrojetting
Sewer Lines
Trenchless Sewers
Repiping Services
Kitchen Plumbing
Bathroom Remodeling & Renovation
Clogged Toilet Repair
Backflow Testing and Certification
Sump Pumps
Septic Tank Plumbing
Slab Leak
Water Softeners
Water Filtration Systems
Commercial Plumbing
Local Reviews
for Kaka'ako, HI
Powered by Nearby Now
---
Plumbing issues like burst pipes or severely clogged drains can completely ruin your day. Call 808-599-5511 today for superior plumbing and water heater services in Kaka'ako, HI.