Your Trusted East Honolulu Plumbers
Are you looking for high-quality plumbing solutions in your area? Pick up the phone and call Allens Plumbing at 808-599-5511 for reputable plumbing solutions you can trust. Save money on your next service when you visit our coupons page.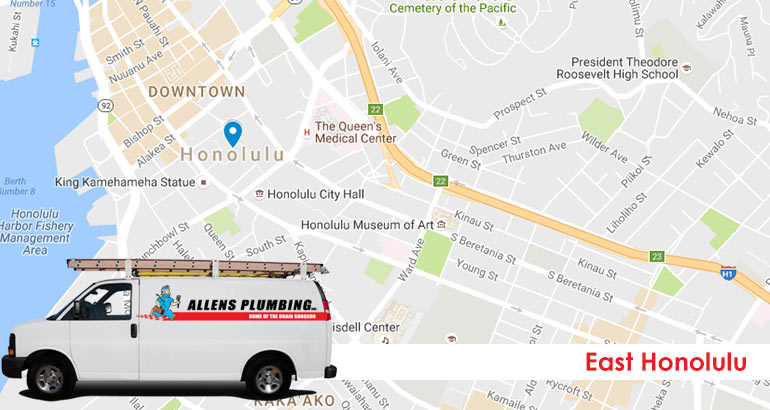 While homeowners enjoy the natural beauty of East Honolulu, HI, they also face the hazards of living right on the water. Heavy rain and tropical storms can wreak havoc on your sewer lines and plumbing systems. That's why Allens Plumbing is here to come to your rescue if your sewer line has burst or you are dealing with a plumbing emergency. Whether it's a clogged sewer line, a burst pipe or a dangerous gas leak, residents of East Honolulu, HI can count on Allens Plumbing to provide fast, cost-effective service with every visit.
Check out what others in your area have to say when you visit our reviews page.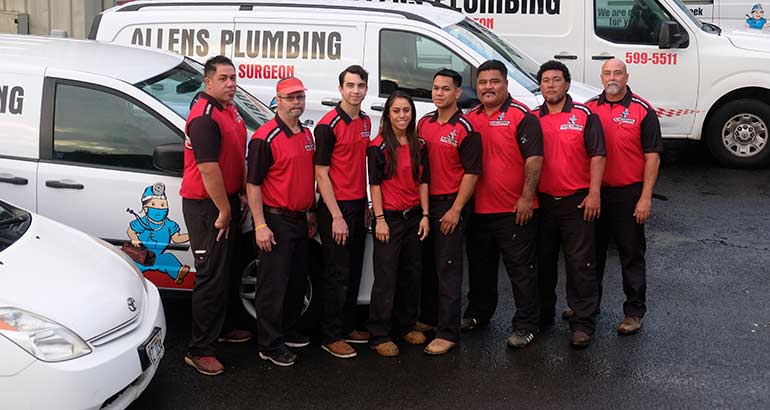 Professional Plumbing Repair & Installation
When you think of a professional plumbing contractor, what comes to mind? A wide range of expert services, experience, integrity, great customer service, a valued part of the community; they all play an important role. When you call Allens Plumbing, you will receive all of these benefits and more.
We offer reliable plumbing services that range from water leak detection to gas line repair to trenchless sewer repair to hydrojetting and drain cleaning. No matter your plumbing issue, we have a solution that will restore your plumbing system to its original state and keep you satisfied in the process.
Is It Time for a New Water Heater?
Hot water is one of those household luxuries most of us take for granted these days. We've all grown up having to do nothing more than switch on a faucet to get all the hot water we need, so it's understandable why we would be alarmed if it suddenly stopped working. For most people, the thought of cold pulses of water during a hot shower is just unacceptable.
Water heaters may require repairs throughout the course of their lifetimes, but eventually, you'll be faced with having it replaced altogether. If the repairs keep mounting, or if your water heater is in the 10-15 year range, it may be time for a new one. A water heater replacement means your unit will operate more efficiently, saving you money in the process.
Reliable Plumbing Services in East Honolulu, HI
24 Hour Emergency Services
Water Heaters
Tankless Water Heaters
Burst Pipe Repair
Water Leak Detection
Gas Leak Detection
Gas Lines
Drain Cleaning
Hydrojetting
Sewer Lines
Trenchless Sewers
Repiping Services
Kitchen Plumbing
Bathroom Remodeling & Renovation
Clogged Toilet Repair
Backflow Testing and Certification
Sump Pumps
Septic Tank Plumbing
Slab Leak
Water Softeners
Water Filtration Systems
Commercial Plumbing
Local Reviews
for East Honolulu, HI
Powered by Nearby Now
---
Don't allow a plumbing issue to bring you down. Call 808-599-5511 today for timely, cost-effective plumbing solutions in East Honolulu, HI you can trust.