Cost Effective Plumbers & Water Heater Experts in Waipahu
Are you looking for high-quality water heater and plumbing service in your area? Call Allens Plumbing at 808-599-5511 today for superior service and competitive rates. Visit our coupons page to learn how you can save on your next service with us.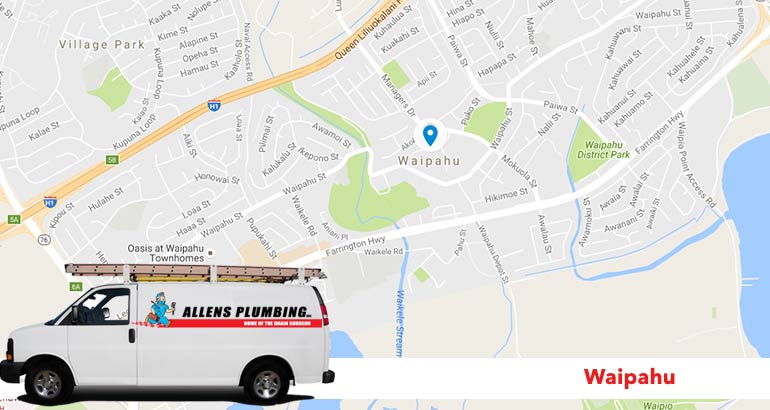 Homeowners in Waipahu, HI know as well as anyone on Oahu just how important it is to have a reliable plumber on hand. During hurricane season, heavy rains can cause flash flooding which wreaks havoc on plumbing and sewer lines. Luckily, the experts at Allens Plumbing have been providing homeowners and business owners with reliable plumbing solutions since 1982. With us, you will enjoy fast, personalized service that will have you calling every time you need plumbing repairs and installations. Whether you need hydrojetting services, sewer repair, water heater installation, or some other plumbing repair service, count on our trusted team to find a solution that works for you.
You can find out what others in your area have been saying about our services when you read our customer reviews.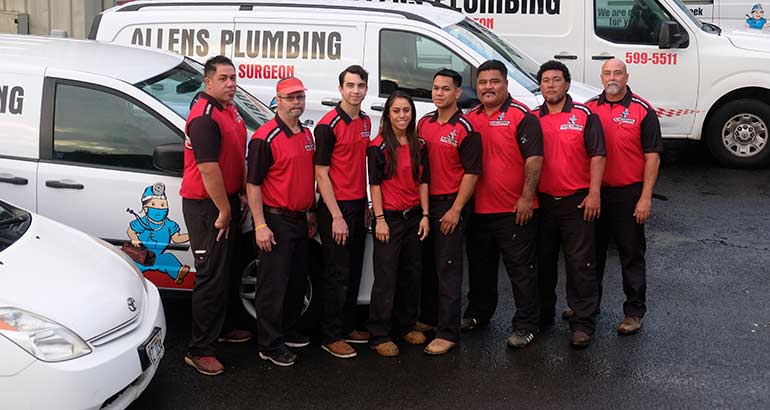 Reliable Plumbing Repair Service
Finding a good plumber that you can count on in a pinch is one of the most important factors of dealing with residential plumbing issues. The main problem is that most homeowners wait until the water is flowing inside their living space before they even begin their search. Having a trusted local plumbing service provider will give you peace of mind that everything will be ok if trouble comes your way.
At Allens Plumbing, we will visit you the same day in most cases, and provide a brief, two-hour window for our arrival so you won't have to wait all day. We will also dig deep to find the cause of your plumbing issue, so it's actually fixed and not just cleaned up. Whether it's a leaky pipe, clogged drain or a sewer line break, you have you covered.
Signs Your Water Heater Is Failing You
A cold burst of water during your morning shower is a good sign that you may have a water heater problem, but there are other, more subtle signs. A slight dip in water pressure, noisier than normal operation, or moisture around the tank may all be related to your water heater.
We are authorized dealers of Rheem, Rinnai and AO Smith water heaters, and when we come to your home to make an assessment, you can feel confident that the advice you receive is right. Whether you need a minor repair or a full replacement, we will never steer you wrong.
Trusted Plumbing Services in Waipahu, HI
24 Hour Emergency Services
Water Heaters
Tankless Water Heaters
Burst Pipe Repair
Water Leak Detection
Gas Leak Detection
Gas Lines
Drain Cleaning
Hydrojetting
Sewer Lines
Trenchless Sewers
Repiping Services
Kitchen Plumbing
Bathroom Remodeling & Renovation
Clogged Toilet Repair
Backflow Testing and Certification
Sump Pumps
Septic Tank Plumbing
Slab Leak
Water Softeners
Water Filtration Systems
Commercial Plumbing
Local Reviews
for Waipahu, HI
Powered by Nearby Now
---
Do you need expert plumbing repairs and installations in Waipahu, HI? Call 808-599-5511 and request an appointment today.