Complete Oahu & Maui Sewer Line Repair
Is your home's plumbing showing the signs of a sewer line problem? Take action today to save yourself a big mess and costly cleanup. Call Allens Plumbing at 808-877-6370 or 808-599-5511 for safe, cost-effective sewer line repair and replacement. Visit our coupons page to find special deals and discounts on our services.
Keeping your sewer lines in good working order is crucial for all Oahu and Maui, HI homeowners. At Allens Plumbing, we have been providing high-quality sewer pipe repair and replacement for more than 30 years, and our customers have come to know us as a name they can trust.
In addition to traditional sewer repair, we also specialize in less invasive trenchless sewer solutions. Learn more about our trenchless services: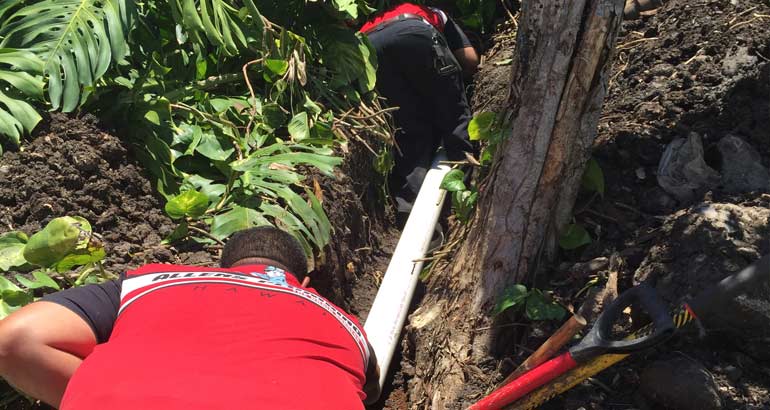 Want to find out what our customers really think? Visit our reviews page to learn more!
Common Causes of Sewer Line Problems
Sewer line issues can develop slowly, but by the time you discover there is something wrong, it's usually time for professional intervention. Sewer line repair or replacement may be required for any of the following reasons:
---
Tree roots that have burst through the pipe
Old sewer lines that are thin and deteriorating
Severe weather or a temperature spike that causes the ground to shift
Foreign objects trapped in the sewer line
---
Signs Your Sewer Line Needs Attention
Your sewer line will typically alert you to the presence of trouble, and although it's not often pleasant, it is a definite sign to give us a call and get the sewer line repair process started. Here are a few signs that may indicate you need sewer line services:
---
A foul odor coming from one or more drains in your home
Standing water in your sinks, showers or tubs
Slow-draining water in sinks, showers or tubs
Dirt or debris backing up into your household drains
Sewage backing up into your household drains
---
Why Choose Our Services?
When you need expert sewer line repair or replacement, Allen Plumbing is the service provider to call. In addition to our stellar plumbing services and customer service, we also offer the following features:
---
We don't just fix the surface issues - we find the underlying cause and treat the source of the problem.
We have an A+ rating with the Better Business Bureau.
Authorized dealer of Rheem, Rinnai and AO Smith Water Heaters.
We aim for same day service with a two-hour service window.
We use the most advanced sewer restoration technology in the industry.
In business for 30+ years.
---
Why suffer through a serious sewer line problem if you don't have to? When your sewer lines are causing trouble in your home, reach for the phone. Call 808-877-6370 or 808-599-5511 today for expert sewer line repair and installation services in Maui or Oahu, HI.