Comprehensive Plumbing, Hydrojetting & Water Heater Services in Kailua
Discover reliable, high-quality plumbing and water heater solutions when you call Allens Plumbing today at 808-599-5511. We will schedule an appointment for one of our technicians to assess your situation and provide a quick solution. Take advantage of our current deals and discounts when you visit our coupons page.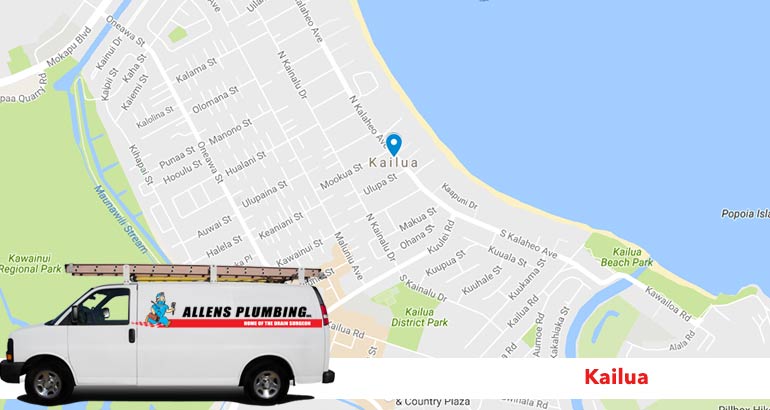 If you are a homeowner living in Kailua, HI, you should consider yourself lucky, for the most part. There is not much to complain about being surrounded by such natural beauty, but life on an island also comes at a cost. Tropical storms and heavy rains can take a toll on your water and sewer lines, and if you do not have a reliable plumber on hand, you could experience severe discomfort and costly damages. Smart homeowners keep a trusted plumbing company on speed dial should an emergency occur. The experts at Allens Plumbing have been leading the way in plumbing solutions for over 30 years.
Whether you need trenchless sewer repair, commercial or residential plumbing, professional hydrojetting, or any other plumbing service, you can count on our expert team to get the job done. When one of our technicians arrives at your door, you will be greeted with a smile, and we always respect your property and clean up after ourselves. Our business enjoys an A+ rating with the Better Business Bureau and it shows with every service we perform.
Want to know what your neighbors are saying about our services? Check out our reviews today!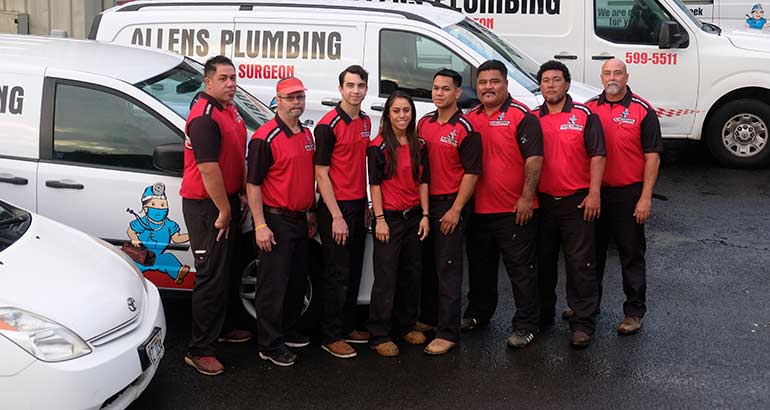 A Trusted Plumbing Service Company
When you contact us for plumbing services, we take your call very seriously. We will always try to set up a same day appointment, and even if that isn't possible, we will give you a two-hour service window. When we arrive, we will take the extra time to discover the underlying cause of your plumbing problem, so the repair is long lasting. We can provide a range of services that includes hydrojetting, trenchless sewer repair, burst pipe repair, gas leak detection and more. Whatever your plumbing needs in Kailua, we have you covered.
Expert Water Heater Services
We are authorized dealers of Rheem, Rinnai and AO Smith water heaters, so we will be able to meet your needs, whether you require a quick repair or a full-blown replacement. Some of the signs of a faulty water heater include leaking around the bottom of the tank, strange sounds or odors coming from the tank, rust colored water or intermittent cold blasts while the hot water is turned on.
If your water heater is only a few years old, it may be more prudent to repair the broken parts. However, if it is between 10 and 15 years old, you may benefit more from a full replacement. With a new water heater, you'll see greater energy efficiency and will actually save money on your bills, which any homeowner will love.
Our Plumbing Services in Kailua, HI
24 Hour Emergency Services
Water Heaters
Tankless Water Heaters
Burst Pipe Repair
Water Leak Detection
Gas Leak Detection
Gas Lines
Drain Cleaning
Hydrojetting
Sewer Lines
Trenchless Sewers
Repiping Services
Kitchen Plumbing
Bathroom Remodeling & Renovation
Clogged Toilet Repair
Backflow Testing and Certification
Sump Pumps
Septic Tank Plumbing
Slab Leak
Water Softeners
Water Filtration Systems
Commercial Plumbing
Local Reviews
for Kailua, HI
Powered by Nearby Now
---
Don't wait until a burst pipe or broken water heater has damaged your home. Call 808-599-5511 today in the Kailua, HI area for professional plumbing and water heater service you can trust.