Expert Honolulu Hydrojetting & Water Heater Services
Do you need expert plumbing and water heater services for your home or business? Call Allens Plumbing at 808-599-5511 today and we will schedule an appointment to provide the solutions you need. Save money on our range of services when you visit our coupons page.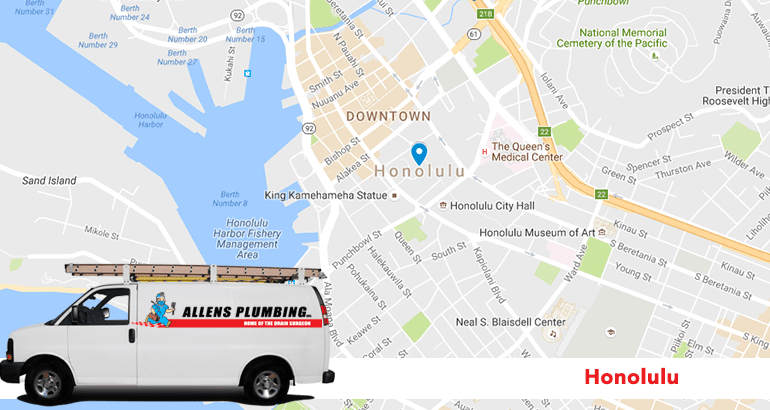 Residents of Honolulu, HI enjoy all of the natural beauty of island living, along with the drawbacks of natural disasters. Tropical storms and heavy rain can cause all sorts of problems for plumbing pipes and sewer lines. Luckily, Allens Plumbing is here to help with any plumbing emergency you face. Whether you need sewer repair, commercial or residential plumbing, hydrojetting, water heater services, or anything in between we have you covered.
At Allens Plumbing, our reputation speaks for itself. We have an A+ rating with the Better Business Bureau, and we've been operating in the Honolulu, HI area since 1982. We pride ourselves on exceptional customer service and will always strive to find the underlying cause of your problem.
Learn what others just like you have been saying about our range of services when you check out our reviews page.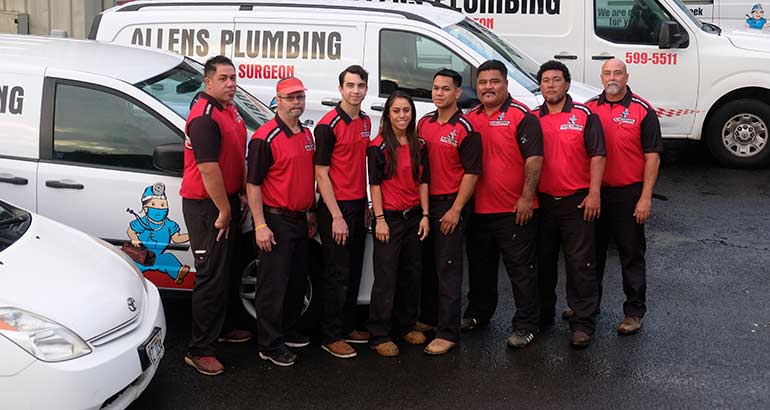 Trusted Plumbing Repair and Installation Services
Allens Plumbing has all of your plumbing needs met, whether they are as basic as a small repair, as extensive as a full replacement, or ongoing such as regular maintenance. We offer a broad range of services, from hydrojetting to trenchless sewer repair to whole house repiping. Our technicians are expertly trained and attentive to your needs so you can rest assured we will provide you with the solutions you need.
Do You Need a New Water Heater?
If you have ever experienced the sting of cold water coming from your faucets when it should be hot, you've probably wondered if you need a new water heater. Sometimes, a repair will suffice, but a new water heater brings with it improved performance and efficiency, which will lower your monthly bills.
If your water heater is between 10 and 15 years old and requires frequent repairs, your local plumbing expert will likely recommend a replacement. The key is to schedule an appointment with a reputable plumbing team like Allens Plumbing to get the process started.
Areas We Serve in Honolulu, HI
We proudly serve the following areas:
---
Local Reviews
for Honolulu, HI
Powered by Nearby Now
---
Are you having plumbing problems in your home or business? Pick up the phone and call 808-599-5511 today for fast, cost-effective plumbing and water heater services in Honolulu, HI.