Your Trusted Ewa Beach Plumbers & Water Heater Specialists
Expert plumbing and water heater solutions are easy with Allens Plumbing. Just call 808-599-5511 today and schedule an appointment. We'll send one of our experts to visit your home and restore  the comfort to your home in no time. Find out how you can save on our services by visiting our coupons page.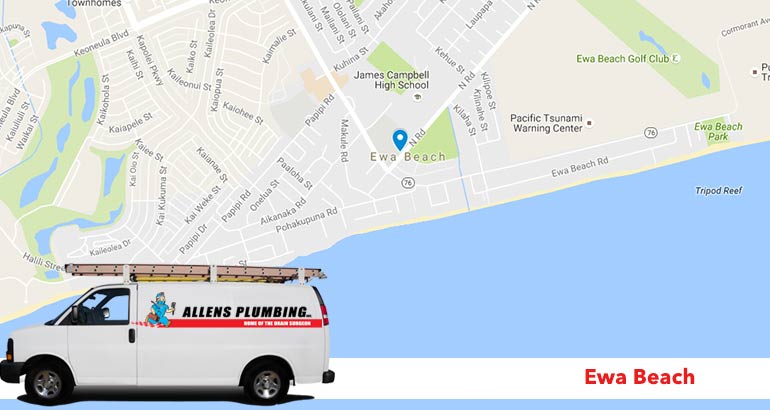 You don't have to live in Ewa Beach, HI long to understand that it rains a lot. While this may not be a problem for most, as a homeowner or business owner, heavy rains can create problems within your plumbing and sewer lines. You don't want to waste time when a plumbing issue arises, and it's important to have a professional plumbing contractor on speed dial to reduce the amount of damages to your home.  That's why so many homeowners have trusted Allens Plumbing since 1982 for all of their plumbing needs. Whether you need trenchless sewer repair, hydrojetting, or water heater replacement, you can trust that we will find the right solution to meet your needs.
If you need more proof before you make the call, you can find out what others have been saying about us when you visit our reviews page.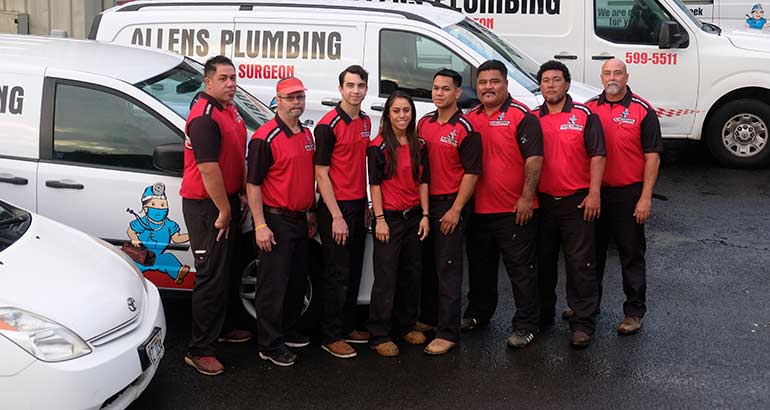 Dependable Plumbing Solutions
Perhaps the most important aspect of choosing a plumbing contractor is finding one you can count on when you really need help. You need to know that your plumber will be there for you whether it's in the middle of the afternoon or middle of the night. At Allens Plumbing, we do our part to make ourselves available when you need us, and we provide a wide range of plumbing services to cover anything that might come along.
Whether it is a new bathroom renovation, sewer line repair, gas leak detection or fixing a burst pipe, we have the experience and the expertise to get the job done and keep you comfortable in your home. All it takes is one call for expert repair, installation, replacement and maintenance.
Assessing Your Water Heater
When you need to know if it's going to be a water heater repair or replacement, the first step is always a professional assessment. Our technician will come in and look over your water heater to determine if the problems you've been having require repairs of a full replacement.
Signs of water heater trouble typically include leaking around the tank, rust colored water, poor water pressure and cold blasts of water when it should be hot. A new water heater will result in improved performance and efficiency, lowering your bills and making everyone in the house happy.
Expert Plumbing Solutions in Ewa Beach, HI
24 Hour Emergency Services
Water Heaters
Tankless Water Heaters
Burst Pipe Repair
Water Leak Detection
Gas Leak Detection
Gas Lines
Drain Cleaning
Hydrojetting
Sewer Lines
Trenchless Sewers
Repiping Services
Kitchen Plumbing
Bathroom Remodeling & Renovation
Clogged Toilet Repair
Backflow Testing and Certification
Sump Pumps
Septic Tank Plumbing
Slab Leak
Water Softeners
Water Filtration Systems
Commercial Plumbing
Local Reviews
for Ewa Beach, HI
Powered by Nearby Now
---
Plumbing problems in your Ewa Beach, HI home don't need to get you down. Just give us a call at 808-599-5511, and we will provide a fast, cost-efficient solution.