Reputable Ala Moana Plumbers
Are you having plumbing issues that require a professional's touch? Call Allens Plumbing today at 808-599-5511 for reliable plumbing and water heater services in your area. Be sure to check out our coupons page to find ways to save on our services.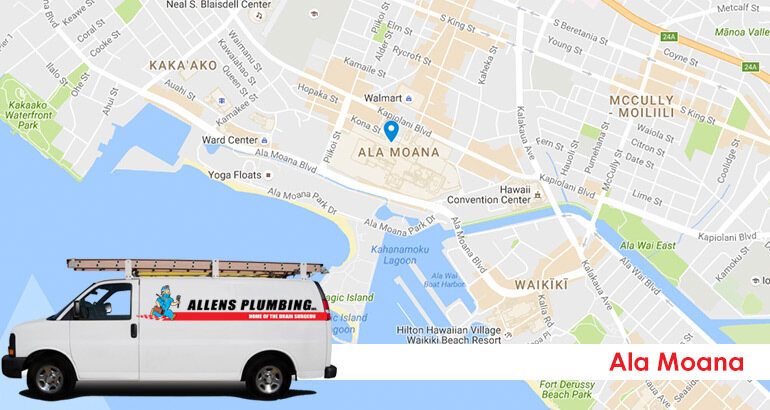 You don't have to live in Ala Moana, HI long to realize life is good there. However, living the relaxed Island life does not come without challenges that mother nature sends in the form of tropical storms and hurricanes. When storms hit, heavy rains can take a toll on your plumbing and sewer systems. It's times like these that having a reliable plumber on hand is absolutely essential. The trusted team at Allens Plumbing has been providing homeowners solutions to their plumbing and sewer line needs since 1982. Count on us for cost-effective, reliable services like trenches sewer repair, commercial and residential plumbing, hydrojetting and plumbing installations.
If you'd like to know what your neighbors have been saying about our range of services, visit our reviews page today.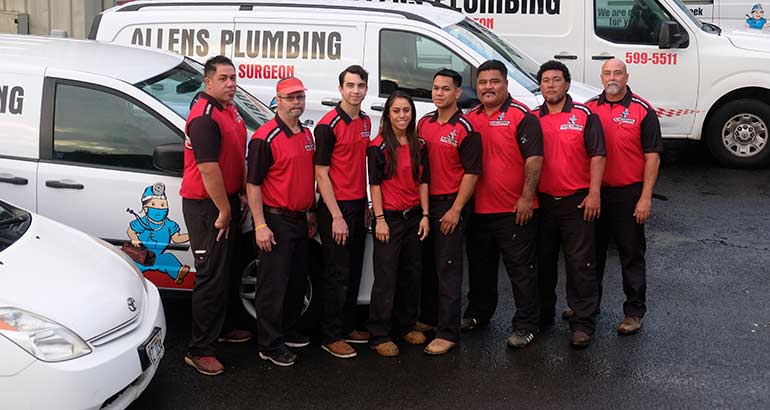 Plumbing Solutions You Can Trust
There's no substitute for a high-quality plumber when you have a serious plumbing issue in your home. Feeling at home in your own home is a luxury we all want, but one that can be snatched away when pipes are leaking or drains or clogged. When you call Allens Plumbing for your household plumbing repairs and installations, you'll be getting access to one of the premier plumbing teams in all of Hawaii.
We offer a wide range of plumbing services, and we have developed a reputation for quality over our 30-plus years in business. Whether you need repairs, installations, replacement or general maintenance, we are the plumbing service company to call.
Do You Need Water Heater Repair or Replacement?
If your water heater has been acting strange lately, or if you can't get any hot water at all, call for professional water heater repair or water heater installation. Some signs of a damaged water heater include a leaky tank, low water pressure, rust colored water, or hot water that suddenly turns cold on you.
If your water heater is relatively new, you may get by with just a repair, but if it is between 10 and 15 years old, it may be time for a replacement. A new water heater will be more energy efficient, will function how you need it and will save you money in the long run.
Reliable Plumbing Solutions in Ala Moana, HI
24 Hour Emergency Services
Water Heaters
Tankless Water Heaters
Burst Pipe Repair
Water Leak Detection
Gas Leak Detection
Gas Lines
Drain Cleaning
Hydrojetting
Sewer Lines
Trenchless Sewers
Repiping Services
Kitchen Plumbing
Bathroom Remodeling & Renovation
Clogged Toilet Repair
Backflow Testing and Certification
Sump Pumps
Septic Tank Plumbing
Slab Leak
Water Softeners
Water Filtration Systems
Commercial Plumbing
Local Reviews
for Ala Moana, HI
Powered by Nearby Now
---
If you're worried about a plumbing issue disrupting your day and causing you unwanted stress, don't despair. Call 808-599-5511 to schedule an appointment in the Ala Moana, HI area. We will dispatch one of our experts to assess the situation and provide a speedy, effective solution.